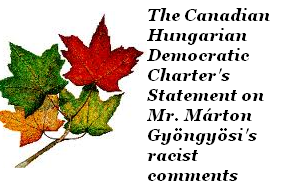 Montreal, November 29, 2012
On Monday, November 26, 2012, the co-chairman of the Hungarian Parliament's Foreign Relations Committee, Márton Gyöngyösi, stood up in Parliament and asked the right-wing government of Viktor Orbán to compile a list of those members of the government and of Parliament who are of Jewish ancestry. In the view of this prominent Hungarian parliamentarian, the presence of Jews in Parliament and the government pose a threat to Hungary's national security.
The last time such blatantly racist statements were heard in Hungary's Parliament was during the darkest days of the Holocaust, during the Regency of Admiral Nicholas Horthy, when some 500,000 Jews were rounded up by the country's police forces, stripped of all their earthly possessions, crammed into railway carriages used for the transport of animals, and shipped off to be slaughtered in Auschwitz. What is astonishing about Mr Gyöngyösi's statement is not so much the content. Hungarian mass media is full of such hate-mongering and the government's media watchdog agency, the National Media Council, does absolutely nothing to dampen such shameful rhetoric. It spends most of its time persecuting those media outlets that do not reflect the Orbán government's nationalistic, often anti-European outlook on public affairs. As the US Anti-Defamation League's 2012 study has shown, Anti-Semitic rhetoric in Hungary's mass media and in public discourse increased dramatically after Mr Orbán came to power in 2010. Mr Gyöngyösi's parliamentary outburst is only the latest in a mounting din, and testimony to the Orbán regime's blindness to this accelerating decay in Hungary's democratic fiber.
The truly astonishing aspect of the Deputy Chairman's hate rhetoric is that it was listened to without any protest by Hungarian MP's. Mr Gyöngyösi was not told to retract his hateful words by the sitting Chairman of the House. He wasn't interrupted or shouted down for his disgraceful conduct. His Party leader patted him on the back for a job well done. Mr Gyöngyösi still sits proudly as a member of parliament and deputy chair of the country's foreign relations committee, and will likely remain in his post as long as his racist, anti-democratic Party, Jobbik, maintains its standing as the second largest political party in Hungary's Parliament. The most dismaying thing about this Anti-Semitic outburst is not the content but the place where it was articulated. What's more, it's not so much the act of an individual opposition member in Hungary's Parliament that causes us to raise our voice in protest, but the fact that one of the North Atlantic Treaty organization's member states, a European Union member state, is led by a government that is restoring a political culture that fosters such uncivilized manifestations. Rather than fighting against the erosion of democratic principles, the Orbán government is bent on restoring the political values that held sway in Hungary under the rule of Adolf Hitler's ally, Admiral Horthy. Mr Gyöngyösi's outburst is a sad step along this backward march in time.
The Board of Directors of the Canadian Hungarian Democratic Charter takes this opportunity to raise its voice in protest against the anti-democratic, authoritarian and often blatantly racist manifestations that are rapidly gaining ground in Hungary under Viktor Orbán's governance. The anti-semitic outburst by the deputy-head of the Parliament's Foreign Relation's Committee is not an isolated incident, but part of a general malaise against which such steadfast European democrats as Vaclav Havel have warned: "In just 20 years after communism collapsed, Hungary's government, though elected democratically, is misusing its legislative majority to methodically dismantle democracy's checks and balances, to remove constitutional constraints, and to subordinate to the will of the ruling party all branches of power, independent institutions and the media" The spread of anti-democratic manifestations within one of the European Union's member states strikes at the security of all those nations that are members of the North Atlantic Alliance. To fight against the spread of autocracy and racial intolerance is not only in the interest of Hungarians, but all citizens, on both sides of the Atlantic. Tolerance towards such rogue governments as Viktor Orbán's sends other would be autocrats the message that the road is open towards authoritarianism.
The Canadian – Hungarian Democratic Charter was launched on the 55th anniversary of Hungary's heroic rebellion against the old, Soviet led communist dictatorship in response to the appeals of democracy's friends inside and outside the borders of Hungary. We, like our Hungarian associates, are a non-partisan civil rights advocacy group, not affiliated with any political party. Our purpose is to give encouragement and support to the defenders of universal democratic principles in Hungary and around the world, to help defend the dignity of our fellow human beings against the revival of ethnic and racially motivated hatred. Our central mission is to halt the spread of autocratic governance in Central and Eastern Europe.
Signed:
Dr. András B. Göllner, Founder and International Spokesperson, Emeritus Associate Professor, Department of Political Science, Concordia University, Montreal, Que
Dr. Christopher Adam, Founder and Spokesperson, Lecturer, Department of History, Carleton University, Ottawa, Ont.
Dr. Éva Balogh, Founder and Spokesperson, former Professor of History and Dean of Morse College at Yale University (Retired) New Haven, Conn.
Dr. Stevan Harnad, Founder and Spokesperson. Canada Research Chair in Cognitive Science at Univerité du Quebec á Montreal. QC
Prof. Peter W. Klein, Founder and Spokesperson. Director, School of Journalism, University of British Columbia. Vancouver, BC.
Dr. Imre Szeman, Founder and Spokesperson. Canada Research Chair in Cultural Studies and Professor of English, Film Studies, and Sociology, University of Alberta.